This is my first official week out of work. I am very keen not to go the way of many redundant people and have devised a programme of gruelling activity.
1. I have created a Tour de France fantasy team which is currently hovering in the 8000s. (I have no idea how many teams there are.) Our progress was initially held back by my choice of leader, a fine cyclist who promptly fell off his bike, breaking his collarbone. Otherwise I think our lack of success is due mainly to my decision not to choose riders implicated in drugs scandals or because they just don't seem vet nice.
2. I have been writing a daily list of "things to do" crossing off those that are achieved. Festering items include:
a. Put the curtain up in the front room.
b. Fill the brown bin (it has been raining)
c. Write Vienna proposal.
3. I have been applying for things , competitions, exhibitions and residencies. The "Viennese problem" is among these applications. Why do I want to go to Vienna for 6 months? What do I know about Vienna?
One of my Dad's favourite singers was from Vienna but was buried in Brompton in 1948. Crippled with arthritis he had a trolley made so that he could be wheeled to and from the microphone for the quiet bits in his records. I've used snatches of these recordings in my Automatic films. He also had a good monocle.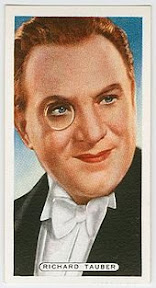 The most interesting residency is in Birmingham where the Bond Company essentially want the artist to double up as nightwatchman for their building in Digbeth.
4. I have been reading. Today's books are David Millar's autobiography and the complete works of Chris Foss
5. Thinking ahead for Thursday's return to Aid & Abet I am on the look out for small tv sets. A frustrating activity as I have only recently disposed of several. I've made five films so far but can currently only show two at a time.
One of them is here
http://vimeo.com/26426188
Vimeo describes itself as a "respectful community". However, I do miss the more aggressive feel of You Tube. This morning I received a new comment on one of my films. It went: "WTF!!!!!"