I am trying to generate a routine. Get up, receive breakfast, squeeze the pig, ablute, gather things, tie them to my bike and catch the 1019 to Cambridge. Annabel is coming later so I shall use the time to write this blog. When she is with me we plan to complete the quick crossword and make a little book of them as the residency progresses. Today my bag contains. Video cameras, spy cameras, a UFO, scalpel, observer book of planes, 20 wind up caterpillars and butterflies, three notebooks, a pen and a small paintbrush. I am drinking a latte.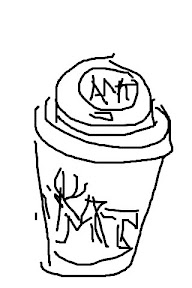 Opposite a young woman is stimming like a disturbed Orang-utan. I am going over my notes from yesterday, they are a little oblique.
I couldn't really get started yesterday as the space was arranged for Market Project's event "Collecting the Uncollectable" Bob was charismatic, Michael insouciant (he probably wasn't, I just like the word), Henry self effacing. I spent most of my time listening in on conversations "too many artists not enough money", and painting mountains on rubbish. I am no painter but I found some enamels in my studio and decided to have a go.
Today I am going to go for it. I plan to spread like red weed.
The show in the back gallery opens today and looks lovely. Sarah, Keff and Annie did a lovely job and even improved some of my sculptures.