Homeward bound eating a thermonuclear pasty with dirty hands. It has been a good day though I missed the company of Annabel.
I've just passed a field of overweight men desperately trying to lift their guts out of the grass while a very upright individual stalks between them shouting (I assume).
Pause for a drink.
She has gone to London to meet an old friend of whom she seems particularly nervous. He is an extremely intense Yorkshire man who mumbles. I am imagining a cross between Geoffrey Boycott and Marlon Brando.
The girls to my left are swapping phones and giggling.
At Aid & Abet, my space hovers between installation and studio, a state I think is ok and even interesting. My attitude towards visitors is not good though. I tend to curl up and find something to stare at. Gareth is much better, he even does conversation. Tomorrow I must tidy up and condense for the closing event.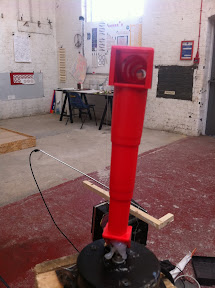 Annabel's moths and butterflies have all pupified (chrysalised?) we can only hope they will hatch for the closing event and flutter around our heads. It all hangs in the balance. An understated crescendo that may not even begin.
Amazingly I have also managed to make a couple of things of which I am reasonably happy. All my stuff has been very boysy. A plays with intricate living things, flowers and butterflies, I with machines, helicopters and adventure.